Happy, happy Sunday loves! I can't lie to you… I started planning for this blog post back in July because I've been so dang excited. Tomorrow is, in my opinion, one of the best days of the whole year. Beat only by Matt and I's birthdays, our anniversary and of course Christmas. It's the first day of Autumn! Matt and I have so many fun things planned and I can't wait to share some of them with you. Matt is Jim. I am Dwight. #allthepumpkins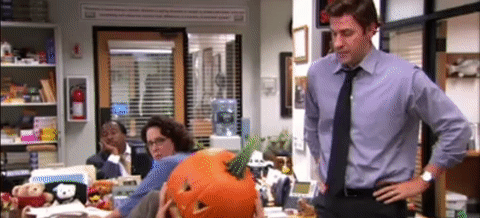 As any regular readers will know, Autumn is my jam. I live for crisp, Fall days, leaves turning read, Halloween, pumpkin spiced everything and all of the cosy vibes that the Autumn brings. Matt is a huge fan of Summer, so we really tried this year to pack in as many fun things as possible to make the most of it! I feel like I often wish away Summer and just don't enjoy it, but the past two years we've made amazing memories and even though I was super excited for Autumn, I hadn't wished away the time for it to be here (well, not too much).
– Make time for all of the breakfast dates
– Carve pumpkins
– Drink lots of bonfire spice hot chocolates from Costa
– Take a hike when the leaves are changing
– Attend a pumpkin FESTIVAL. I'm so dang excited for this!
– Celebrate our anniversary with a weekend getaway (we couldn't go in September on our actual anniversary or October due to Matt's work schedule so we're hoping to go in November!)
– Go beer tasting at a local brewery
– Drink hot apple cider
– Bake pumpkin cookies/muffins/bread
– Wrap up for crisp morning beach walks
– Enjoy all of the cosy nights with pumpkin candles burning
– Visit Edinburgh & Glasgow
– Spend Sunday afternoons out for dinner in cute, cozy pubs
– Have a bonfire
– Eat s'mores over the bonfire
– Watch all of the Halloween movies (sorry, Matthew!)
– Watch the Harry Potter movies. Matt and I have been clearly living under a rock and have only seen the first few, but don't really remember them. Prepping for our Florida trip next year, we're watching all of the movies back to back this Autumn!
– Visit a haunted house/haunted maze
– Dress up for Halloween. Couples costume ideas appreciated?!
– Visit a pumpkin patch, we've found an amazing one in York and I can't wait to see it!
– Spend a morning at a local farmer's market
– Create my first Fall DIY (#fortheblog)
– Celebrate Bonfire Night
– Begin our Christmas shopping
– Experiment with more CrockPot recipes
– Build my Autumn wardrobe
This was so fun to write! I just love everything about Autumn, I'm sooo happy it's here and I'm genuinely so excited for all of the things we're hoping to squeeze in to the season! The build up to Christmas has officially started and the last three months of the year really are the best. What are you excited for this season? Do you have any fun plans? Is there anything going on in North East England we should make time for?
-G x